Neurology Update,14th June 2019*
More than half of patients presenting to an emergency department with mild traumatic brain injury (TBI) are still reporting problems a year later, a US study shows.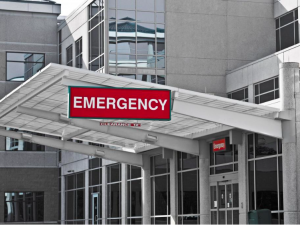 Those who had acute abnormalities on brain CT in emergency were 24% more likely to report functional impairment at 12 months that affected their daily life than those whose brain scans were normal, the researchers reported in JAMA Neurology.
The findings highlighted the need to provide better follow-up and ongoing care for people with mild TBI, the authors said.
The study followed 1154 people (mean age 41, 66% male) who attended 11 of the best-equipped trauma centres across the US and were classified as having mild TBI, as measured by a score of 13-15 on the Glasgow Coma Scale.
While the orthopaedic trauma patients reported slightly more injury-related limitations than those with mild TBI during the first four months after injury, by 12 months, those with mild TBI were faring the worst.
The study found 53% of those with mild TBI reported functional limitations due to their injury at a year compared with 38% of the orthopaedic patients.
"In addition to more frequently reporting functional limitations at 12 months, patients with [mild] TBI reported more persistent injury-related symptoms (eg, headaches, fatigue, depression, forgetfulness) and performed more poorly on cognitive tests than those in the [orthopaedic] group," the researchers said.
Furthermore, TBI patients who had abnormalities on brain CT scan at the ED were 58% more likely to report injury-related limitations affecting daily function a year later than those with orthopaedic injuries.
These patients were also 24% more likely to have functional impairment at a year than those with mild TBI whose scans had been normal.
The data supported the need to "further refine [mild] TBI classification systems beyond current approaches focused on the crude variables of admission [Glasgow Coma Scale] score and normal vs abnormal head CT scan", the authors said.
"Our findings highlight an apparent need for improved treatment of [mild] TBI."
IFN clinics utilise the latest technology and assessment methods to evaluate and treat mild traumatic brain injuries (mTBI or concussion). Although our treatment is usually successful at all stages of post concussion syndrome we encourage people with mTBI to attend one of our clinics for an initial assessment as soon as possible following their injury.
Some non-pharmacological interventions might benefit patients, as might improving discharge instructions and putting in place a follow-up one week after injury, they suggested.
In the study, function was evaluated using the Glasgow Outcome Scale Extended score, which was completed in an interview with the patient.
IFN clinics utilise the latest EEG brain scan technology and mTBI indexing software assessment methods to evaluate mild traumatic brain injuries (mTBI or concussion). IFN clinics utilise a wide variety of treatment modalities including Transcranial Direct Current (tDCs), Transcranial LASER, Vestibular and Cerebellar stimulation and peripheral nerve stimulation, to provide the best, most comprehensive treatments available. 
Contact information for IFN group of clinics is available on our website ifn.net.au.
*Original article written by Clare Pain from:
Nelson LD, Temkin NR, Dikmen S, et al. Recovery After Mild Traumatic Brain Injury in Patients Presenting to US Level I Trauma Centers: A Transforming Research and Clinical Knowledge in Traumatic Brain Injury (TRACK-TBI) Study. JAMA Neurol. Published online June 03, 2019. doi:10.1001/jamaneurol.2019.1313